CONSCIOUS FAMILY DINNER
1 YEAR ANNIVERSARY
SATURDAY
SEPTEMBER 23
7:00 - 10:30 pm
@ The Lovely La Maida Mansion
11159 La Maida St, Los Angeles, CA 91601
Line Up
Scroll Down For Details
The Conscious Family Dinner is a playground for you to ignite exploration, ground soulful connections, and flow into transformation. Come let your imagination take flight!
EXPERIENCE playshops, artists, performers and merchants in a dynamic environment while enjoying delicious nourishing food for the body, heart, and mind.
Choose-your-own-adventure and discover new levels of AUTHENTICITY, EXPRESSION, and COMMUNITY.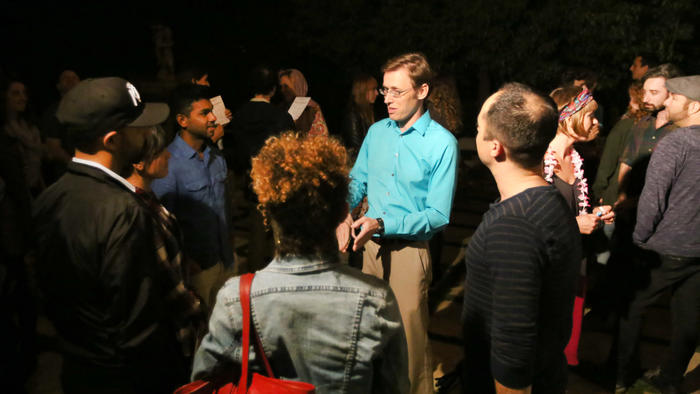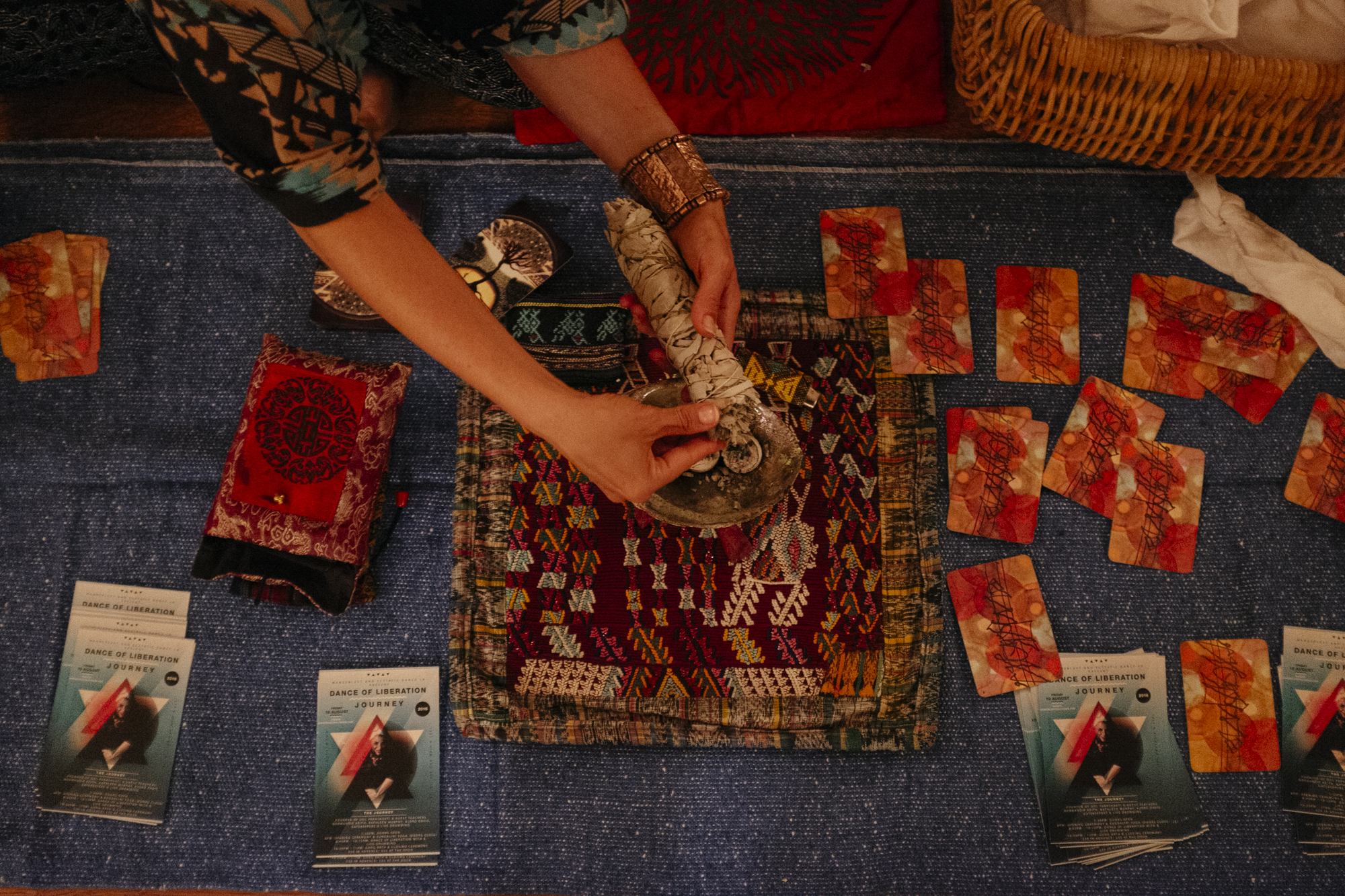 JUMMEE METHOD®
ORGASM FOR LIFE! WHY NOT?
JUMMEE = CORE + BLISS
It's Time to Play with the JUMMEE Method®
Give yourself permission to be whatever you want to be and do whatever you want to do with the JUMMEE Method®; a unique and wondrous sandbox of playfulness, movement, breath, sound, and stillness.
Designed to amplify your vitality and help you quickly reconnect your mind and body to the present moment, the JUMMEE Method® seamlessly weaves together a wide range of modalities, from traditional Asana, to Holotropic Breathwork, Tai-Chi, Gestalt Awareness, Quantum Leap Meditation, Crystal Bowl Sound Bath, Aromatherapy, & 5 Rhythms Dance.
WHY PLAY
Power of Play
We are constantly inundated in a world of work. Over 10 million Americans work more than 60 hours a week. Our culture values "hard work" over passionate and inspired work, and many people work harder because they feel guilty or ashamed rather than truly motivated and driven.
Unfortunately, this culture of hard work has even crept into the wellness community. Competition, feelings of intimidation, and injuries all point to the influence of this culture of work. We've all felt it. And we're ready for play.
Why we play…
We play to explore and rediscover who we really are.
We play to cultivate kindness and sustain our highest potential.
We play to elevate each other and awaken compassionate communities.
We play to create the beautiful, blissful, bountiful world we want to play in.
We are play.
PIRATE BOOTY YOGA!
Yaaaarrrrghhhh it's Pirate Booty Yoga Time! Gathaaaarr up yerrr sails, and be ready-O and jigged to get into ship-shape, with salty and sweaty love!
Enjoy a theatrical, Pirate play Yoga workshop that'll pleeezzzz yer inner jewels and treasure chests!
http://www.dancingypsy.com/piratebootyadventures

ABOUT GYPSY
http://www.dancingypsy.com/gypsy
Gypsy Bast is a radical Yoga teacher, Pilates Master, Yoga Nidra and Meditation guide, who teaches Dance in all classical and sexy forms. She's and Energy Shape-Shifter who inspires you to discover your unique gifts within, using artistry and flow through her practices to empower your limitations!
"I perform and teach, inspiring others to move free and dance, from one stage to the next." ~GYPSY
THE MAGIC OF HUMAN CONNECTION
The Magic of Human Connection
Lets go on an adventure together! In this adventure, we see that every time we interact with another human there is a potential for magic to occur!
That magic can be healing, exhilarating, transcendent, blissful ... it can feel like home.
Take off the heavy mask of pretending to be someone else and come be fully loved and celebrated for who you are!
In this heart opening workshop we tap into the magic of connection that is always available when we bring the key ingredients of presence, love, authenticity and play. Through powerful partner activities, this workshop is designed to unite us with the abundance of love, interconnectedness, joy, and compassion that we can all share.
Come exactly as you are - we love you that way!
Leave with an open heart, a full spectrum of beautiful experiences, renewed confidence in the magnificence of your being, and new friends on the path to freedom!
Jessica Encell-Coleman is a divine, badass multidimensional being of light. She is a love activist, interpersonal adventurer and relational explorer. She has shared The Magic of Human Connection with 1,200+ participants this past year. She creates embodied experiences for people to receive the energetic imprint of higher possibilities of love and aliveness and coaches individuals, couples and teams on how to activate extraordinary levels of love and connection.
PRAISE
"This was an epic, extraordinary experience that really viscerally showed me what LOVE is."

"I've never felt more in love with a group of people and with myself."

"I've never been to anything like this. AT first I was nervous and even considered leaving. By the end I was having such an amazing time, I didn't want the workshop to end!"

"By far my favorite workshop I experienced at Burning Man!"

"One of the most profound and beautiful experiences of my life!"

"I honestly and full heartedly feel that I have been rebirthed with so much love and presence activation."

"This workshop was profoundly fun, transformative and very comfortable and engaging. I strongly encourage you to partake - you can change your life!"
PLAYroom
The First To Love Wins...!!!
We're going to be playing games together that make life just a bit more delicious :)
I spent the last 6 months working on a few different books... the first was a 800 page manual on the art & science of Personal Transformation. The next was a 300 book on the 8-Steps to freeing yourself from suffering....
And then I asked myself a very important question: what would happen if I turned transformation processes into games???
I met Patch Adams once and he said, "the greatest political activism in the world today is to be happy all time. If you want to end all wars, just go outside, take your underwear off, and dance with it on your head. No one would be fighting if everyone was dancing with their underwear on their heads."
I now think the backdoor to happiness (fun) is much easier to open than the front door (philosophy)... So I wrote a new book called "The First to Love Wins," got an awesome literary agent, and now I'm opening up my playroom for us to play some transformational games together.
So, step into my PLAYroom and let's make a difference in the world together by getting radically joyful and playing games where The First to Love Wins!
 
... sample video...
Success coach and transformation artist to the stars, Dale Thorhammer, brings his award winning workshop on Dating & RELATIONSHIPS to The Conscious Family Dinner.
Come find out why looking for love in all the wrong places has led you to the right place... this life changing experience is sure to lead you towards discovering the love of your life.
Guaranteed.
(prepare to piss your pants laughing...)
Here's a Preview of Dale in Action
You Are Complete
Bianca earned two fancy masters degrees from Columbia University (an MA and an Ed.M), became a licensed Marriage and Family Therapist and has provided thousands of hours of therapy to adults, children, couples and families with every psychological diagnosis known to man.
"I learned is that there is NOTHING WRONG with me or you or anybody. And that spirituality must supersede traditional psychology. Radical, right? So why are you unhappy and unfulfilled?
Because you have forgotten THE TRUTH and are longing for spiritual solutions to reconnect to your all-knowing, joyful spirit."
For this Playshop, Bianca will be leading the group through a profound Breathwork experience:
"Breathwork is a powerful approach to self-exploration and healing that integrates insights from modern consciousness research, anthropology, various depth psychologies, transpersonal psychology, Eastern spiritual practices, and mystical traditions of the world."
Experiences of breathwork include:
Ability to manifest greater abundance
Deep healing of wounds, grief and traumas
Access to expanded states of consciousness, including higher guidance and clarity
Awakening to the truth of who you really are
Release of toxins from the cells of the body
Massive stress relief and deep relaxation
Greater self-love and more loving relationships
Emotional Balance
Relief from physical pain
Overwhelming feelings of joy
Find out more here: http://www.youarecomplete.com/
Purpose is your Birthright
Most of our biggest fear isn't dying, it's dying before people really get to see who you are and what you have to give. In this talk you will be reminded of the irreplaceable miracle that you are, and discover the breadcrumbs toward the unique mission you are here to accomplish for the planet during this massive transition in human consciousness. You will claim the positive potentials, gifts and talents laying effortlessly inside of you that lead to your purpose. Together we will get clear on the difference you are here to make and we will set worthy goals that are in alignment of the nurturing of this soul seed.

Maggie Kay's passion is to bring you into right relationship with your freedom and power so that you can discover and embody your unique mission for the planet. Spanning across North and South America, Europe, Africa, Asia, and India, she has studied with yoga masters, shamans, life coaches and energy healers to learn ancient modalities on connecting people to their highest potential. She now spreads her message through public speaking, life coaching and leading transformational retreats around the world. Maggie is a total junkie for fearless adventure and life beyond the comfort zone, she feels most at home in the middle of the Amazon Jungle, at Burning Man, or deep in the Himalayan Mountains.
Past CFD Playshops have included Love Alchemy and Masters in Manifestation.
Praise:
"Maggie has a gift: call it magic; call it truth; call it a mirroring of your truest self. Call it what you will, Maggie has it."
"You can't help but feel a sense of peace when she is around or even simply with just her voice. She is ONE SPECIAL SOUL."
 
RealTalk: When it comes to "adulting," do you feel like a total #StrugglingDuckling? (You know, Fifty Shades of Flawed and never quite good enough...?
If so than you know aaaaall about the #StruggLife.
The countless days spent worrying about whether or not you're smart enough, sexy enough, talented enough, or evenjust ENOUGH enough to do that thing that you REALLY want to do.
The endless hours spent doing things that suck the life out of you because... bills.
The false starts. The failed attempts. The tears. The frustration. The constantly feeling like the world's biggest fraud...
And every so often the distant memory of the life you actually want for yourself (which is, of course, ALWAYS followed by the paralyzing fear that you'll NEVER ACTUALLY GET THERE).
Sound familiar? Then take a deep breath, Dreamer, and come talk birdy with me 'cause this workshop is all about ditching the #StuggLife and learning how to feel #MajesticAsFlock.
-----
Tania Andrade is a FUNconventional life coach, joy advocate, and defender of dreams. She supports Millenials towards developing the courage and confidence to unleash their Inner Awesome and create an extraordinary life.
Twin Flame Healing Meditation
Twin Flame Healing Meditation
Go on the journey of healing your relationship to the Divine Masculine and Divine Feminine energies within. Both aspects will be called in to heal and revitalize your soul expression and come into communion in the Temple of your Heart. You'll experience a synergy and peace that will help you gain a better handle on your personal energy as well as help you be more effective in manifesting your soul's purpose. Afterwards, you'll find that you have a more harmonious interaction with others, with the Divine, and with your Twin (if that journey has been a challenge). This healing experience and guided meditation is for everyone regardless of gender or sexual orientation. It is especially helpful for those who have come in contact with their Twin counterpart or who are on their Ascension journey.
Jynnette
Oracle, Healer, & Spiritual Life Coach
Reiki Healing
Rachael will be providing guests 10-15 minute private Reiki healing sessions throughout the night
(it's first come first served, so sign up early!!)
Here's some info!
Life Guide, Rachael Ferrera, is a Certified Reiki Practitioner and Intuitive Coach whose client base spans across the United States and beyond! She spent 4 years studying Theater and Psychology at New York University and has spent the last 7 years exploring, observing, and teaching the practical effects of Reiki, meditation, mindset, and metaphysical healing. Through her exploration and continued practice, Rachael has developed the groundbreaking Centered-Truth Energy Healing system.
In addition to her healing work, Rachael is an actress, singer, and spoken word poet who has been seen on stages throughout the nation, on Broadway, and on the Tonight Show with Jimmy Fallon. In her eyes, art and healing go hand in hand, and she is immensely grateful to be living her life's purpose of spreading love, the greatest power in the universe, through healing and art.
1 on 1 Reiki sessions (first come first served)
Reiki is...
a gentle yet powerful healing technique that is used to clear energy blockages in order to bring the body back to its natural state of complete health. This holistic system treats the root cause of issues in the body, mind, emotions, and spirit, while creating an unparalleled sense of peace and relaxation. It can also be used to create direction, momentum, and transformation in personal life, spiritual life, and career. Reiki can be used when people desire:
Relaxation
Reduced stress
Ease or elimination of chronic physical pain
Increased speed healing injuries
Improved sleep
Mental clarity
To treat depression and/or anxiety
Comfort during trauma, loss, or grief
Ease during transitional periods in life
Help to break through a stagnant period
Elimination of self-limiting beliefs
Greater confidence and self-worth
Emotional balance
Improved relationships
General wellness/Improved immunity
And much more!
Aaron Kemp is the foremost kabbalistic palm reader in the world... your mind WILL be blown!!!
The best vegan, gluten-free, sugar free, super-food chocolates you will ever try!!!
All you can eat gluten free, vegan Indian food (plus other delicious foods, beverages, and snacks!!!)
More To be Announced soon!
SATURDAY
September 23rd
7:00 - 10:30pm
@ The La Maida Mansion
11159 La Maida St, Los Angeles, CA 91601
What Do You Think About the CFD?
Want to contribute to the next CFD?
Want to help us at the next CFD?